Hayward Electrical: Over head Wiring And Meter reapair
An important factor when a property is serviced for electrical output, which in turn serves all the power to your property, is the overhead wiring. This runs usually from a pole outside your property to the electric meter, and is responsible for adequate electrical power to your home or business.
Making sure that this overhead power supply runs safely and efficiently to your electric meter is almost certainly a deciding factor in any property renovation, new construction or rewire project. If the job is not done correctly then you could be in for a few nasty surprises such as power surges, loss of power supply and even high metered energy bills.

Sometimes an emergency can arise, we have a 24/7 call out team that can be at your doorstep promptly. All you have to do is contact us with your address and details, let us know what the problem is and we will be there in no time at all. One of the most common emergencies when it comes to overhead power lines is storm damage. Wind, rain, ice and snow can all have an effect on those power cables which can either be shorted out at the junction box, or downed altogether.

If you notice a problem then it is important for you to contact us straight away, we will be with you as quick as we can. We have many service teams on call in the Hayward area, so getting out to you is absolutely no problem. We can work with your insurance in regard to overhead power cabling and electric meter repairs. All we need is your insurance company details; we will work with you and your insurance company to solve any problems. A quick check of your insurance policy will show if you are covered for overhead cabling and electric meter repair. If in doubt contact your insurance company. If you do not have coverage seek their advice, it could be an import extra on your policy.
As we are local to Hayward we have the authority and the experience locally to provide adequate and professional overhead cabling and replacement electric meter work. We not only do this professionally and efficiently, but we can do the work quickly.
---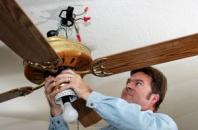 ---
We work for:
Just call us with any enquiries or for any advice.
---